Glens Falls Restaurants, Dining & Nightlife!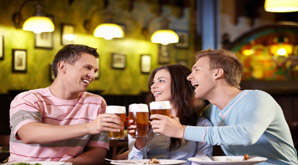 Dancing and Drinks
Check out some local hot spots - The Glens Falls Region offers great bars, pubs, clubs and more! Head to a local wine bar for a quiet drink or check out one of the area's great local bands.
In Glens Falls, restaurants are unique, plentiful and delicious! Need some ideas on where to eat in Glens Falls? This region has a lot to offer with its extraordinary variety of culinary choices...with such an expansive and eclectic choice of restaurants in Glens Falls, you are sure to find just what you are looking for! Whether a memorable dinner, a delicious and relaxing lunch, or coffee and a sweet at a cafe or bakery, your family, friends or business associates will be delighted with their Glens Falls dining options! When you are done with dinner, don't miss the Glens Falls nightlife at local bars and taverns!
Glens Falls, Hudson Falls, South Glens Falls, Queensbury and Fort Edward restaurants and eateries offer a host of dining options. Whether you're planning a business dinner, an intimate or romantic dining experience, a night out with the family or a casual get-together with friends at a downtown Glens Falls restaurant before an event, you'll find just where to eat in Glens Falls on GlensFallsRegion.com!
Regional Towns
Regional Events