The World Awareness Children's Museum
89 Warren Street
Glens Falls
,
NY
12801
Main Contact: Sharon Steen
go! (the interactive exhibition space of the World Awareness Children's Museum) is a unique, fun, hands-on learning center in Glens Falls where individuals of all ages can interactively learn about world culture and art. Fantasy adventure roles too!
Stop by 'go! where children discover the world,' and explore children's art, musical instruments, costumes, dolls, puppets, masks, and currency from around the world! Visit a Nigerian marketplace, use chopsticks in a traditional Japanese tea room, paddle a Chinese dragon boat and more!
So much to love and so much to learn! We offer:
On-site interactive cultural exhibitions
The International Youth Art Exchange (ARTex) Program
Educational outreach programs
Special events
Volunteer opportunities
Host your child's next birthday party at The World Awareness Children's Museum for a one-of-a-kind good time! Call (518) 793-2773 or visit www.WorldChildrensMuseum.org for more information and for current hours and events.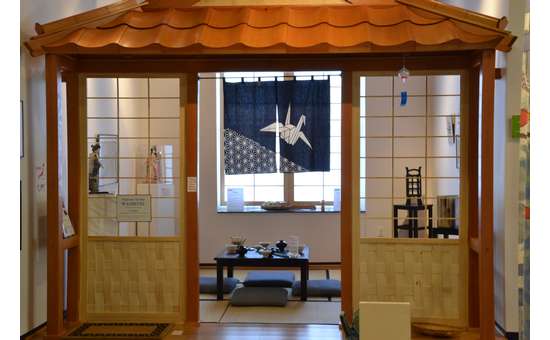 Click on the thumbnail images to see the larger version

Directions & Map
Always get confirmation of the business location.
Reviews & Ratings
Myrosia
from Dobbs Ferry, NY wrote on

Sunday, February 15, 2015 at 5:16 PM
We had a wonderful experience at the museum. We were in the area and had a free day, so stopped by. Had no idea what to expect and were pleasantly surprised that both our 7- and 11-year old found exhibits and activities to interest them. There is plenty for younger kids to see/do as well. This is not a large space, but well planned out, with many separate spaces. A nice mix of quiet and active spaces. A huge thank you to the staff that tracked us down at our hotel to return my wallet, which I had accidentally left behind!
Jaclyn
from Middletown, NY wrote on

Tuesday, August 13, 2013 at 5:51 PM
Although this is a children's museum they are not accommodating to families with small children. During our trip to the area we decided to take our children during a rainy day to the museum. Upon entering I was told I could not use my stroller under any circumstances in the museum. The lady at the desk informed me they are a " stroller free" zone. This makes it difficult for any family with an older child and younger sibling who would need a stroller. It isn't easy for a parent to help an older child play and interact if They have to carry a baby the whole time. I had my 14 month old triplets and 3 year old son with us. I know my case is different from most but the ladies at the front desk were not nice at all. I would think a place for children would be better suited for families.
The World Awareness Children's Museum
responded on Wednesday, August 14, 2013 at 7:50 PM
We allow umbrella strollers, as these will safely navigate the museum's areas, while still allowing other families to enjoy the interactive exhibit spaces. A larger stroller or wheeled vehicle, such as the wagon, that was requested to be brought into the museum on Wednesday might present challenges that would impact the museum's shared space i.e. water dripping from inclement weather, requiring greater turning radius around exhibit displays with children playing and dancing, etc. Therefore, the policy--narrow aka "umbrella" strollers only. We are open to reviewing new information for consideration of operational policies. There are days and times, when we are less busy and therefore might be able to accommodate a larger wheeled vehicle into the museum. Please contact us to discuss further: Phone: 518.793.2773 x305 or Email: director@worldchildrensmuseum.org We are always eager to receive new ideas to enhance the visitor experience and achieve our mission: "inspire curiosity and foster appreciation in diverse world cultures". Thank you very much for your ideas, suggestions and support. New events and programming coming soon…watch our website: www.worldchildrensmuseum.org, like us on Facebook, follow us on Twitter