True North at 499 Glen LLC
499 Glen Street
Glens Falls
,
NY
12801
True North is an integrative health community located in Glens Falls, NY. It is comprised of a group of experienced and dedicated practitioners who strive to provide the best possible services to their clients, to each other, and to the community.
Our Practitioners
Dr. Debra Pietrangelo
Licensed Psychologist
Debra Pietrangelo is a licensed psychologist and founder of True North at 499 Glen. Dr. Pietrangelo works with children, adolescents, adults and families. She has worked in private and public school and clinical settings since 1984 and has been in private practice for ten years. Her specialties include, but are not limited to, humanistic, family systems, child development, cognitive-behavioral, interpersonal/relational, mind-body integration, and energy methods to help people grow and attain emotional, behavioral, cognitive, and spiritual balance in order to live fully. In creating True North, she is fulfilling a dream to provide people with a space to do the work they need to do in order to heal, grow, and transform.
L Gail Haines, RN, CSW
Clinical Social Worker
Clinical Supervisor & Consultant
L Gail Haines has practices and taught Gestalt and family therapy concepts for over thirty years. She is presently offering supervision, training, and consultations to professional psychotherapists and others in the mental field.
"I remain constantly excited about facilitating a process that encourages people to 'see' differently, and supports them to bring forth as much of themselves as possible in their professional and personal lives."
Lynn Edgerly, LCSW-R
Licensed Psychotherapist
Lynn Edgerly earned her Bachelor's Degree from San Fransisco State University with a dual degree in Psychology and Dance therapy. She later graduated from the University at Albany as a Master's Level Certified Social Worker. She also received a Certification in Drug and Alcohol Abuse from Russell Sage College and extensive training in Psychodrama. She worked for the NYS Office of Developmental Disabilities as a dance therapist and later as QWL/EAP Coordinator. She has been in Human Service field for over thirty years working with individuals with a wide range of mental health needs. She has been working at Four Winds Psychiatric Hospital for the past 19 years, 12 years full time and the past 7 years as a consultant/contractor. She currently provides group therapy at the Partial Hospitalization Program at Four Winds Hospital. She has been at ECS Psychological Services for the past 7 years where she specialized in treatment of eating disorders, depression, anxiety, and trauma. She has a wealth of experience in treating adults, children, couples, and families. Her goal is to treat each person as an individual and create the treatment plan which best meets his or her needs.
Brenda Arley, M.A., RNCA, LMFT
Licensed Marriage and Family Therapist
Licensed Clinical Nurse Specialist
Adult Mental Health
Brenda Arley has been working with individuals, couples, and families in the Glens Falls area since 1987, first as a graduate and post-graduate trainee, then as a clinical staff member at the Adirondack Samaritan Counseling Center. She began working in 1993 in private practice until her association with True North. She is guided in her psychotherapeutic practice by family systems theory, Relational-Cultural Theory (RCT), mindfulness, and the neuroscience of human relationships. It is her understanding that, when we experience relational disconnection, we feel pain and distress; and when we experience relational connection, we thrive and grow. A special interest for Brenda is mindfulness meditation as a way of moving toward a fuller relational connection with ourselves, others, and with life itself. She also offers Mindfulness Based Stress Reduction (MBSR) courses.
Joanna Pennachio, RN, LMT
Licensed Massage Therapist
Joanna Pennachio has been a registered nurse since 1981 and a massage therapist since 1987. She has worked as an RN in Boston, Albany, and Glens Falls. She has worked as a Licensed Massage Therapist in various settings in Saratoga and Glens Falls. She is presently working part-time at Glens Falls Hospital. Joanna has a strong interest and passion for the holistic health field where alternative therapies are available to the public with more focus on health and prevention. She practices Reiki II, Shiatsu, and Reflexology. She also instructs Zumba fitness classes. Joann is excited to bring her knowledge and skills to the community as part of True North's mission.
Anna Doran Sadowski, LMHC
Licensed Mental Health Counselor
Anna Doran Sadowski has been working in the menrla health field since 2007. Anna works with children, adolescents, and adults providing individual, couples, family, and group counseling, as well as court-ordered therapeutic visitation. Her specialties include treating anxiety disorders, mood disorders, eating disorders, parenting/family issues. women's issues, self-esteem/body image, sexual identity, and grief counseling. She enjoys working with all populations.
Stacey Doltz
Usui/Tibetan Reiki Master
Stacey comes to True North as an Usui/Tibetan Reiki Master who also has an extensive background working with children and families. Prior to becoming a Reiki Master, Stacey has spent years as a child abuse investigator, Supervisor of a DV program, and Coordinator for a Child Advocacy Center. Currently, Stacey teaches yoga and meditation classes to young children. She is very excited to begin a reiki practice at True North with adults and children.
Jackie Thorne, RN
Integrative Nurse Counselor
Jackie Thorne, RN, thrives in her role as an Integrative Nurse Counselor, sharing her passion for health, happiness and nutrition with others, and helping them live their own best lives. She is a counselor, writer, blogger, speaker, and educator, promoting health and wellness with a focus on nutrition and lifestyle changes. Through private counseling and wellness workshops, Jackie strives to guide and empower people to take a positive, preventative approach to their own health and well-being. Her work has helped clients with issues ranging from anxiety to weight-loss learn to make lasting changes to their food and lifestyle choices, and feel supported during the process. Jackie lives and works with the belief that helping people learn to be healthier and happier creates a healthier, happier world for everyone.
Jackie studied nutrition and health counseling at The Institute for Integrative Nutrition in New York City, and is a graduate of the University of Missouri-Columbia and SUNY Adirondack, where she obtained her nursing degree. In addition to her counseling practice, Jackie sits on the writer's panel for NEWLR (the National Exchange for Weight-Loss Resistance), blogs for "Hometown Health" on GlensFallsRegion.com, and is a founding member of the North Country Health and Wellness Network (NCHWN). An avid yogi, gardener, and outdoorswoman, she makes her home between the lovely upstate New York communities of Hartford and Glens Falls. Jackie will be joining True North in 2012!
Larry Reynolds
Grace Healing
Larry Reynolds has worked as a Spiritual Intuitive for over 20 years providing individuals with a clear evaluation of one's relationship with his or her own Divine Origin. He has pioneered a new healing technique, which, through Spiritual Release, Larry reunites clients with the Divine power inherent within us all. He teaches how to transform and release the challenges and disease we face in this life. Larry has expanded his practice to also benefit animals, corporations, churches, social organizations, governmental offices, and health institutions.
Daniah Cornell
Administration
Dahiah's passion is helping others. She has a background in Personal Fitness Training a and has worked at local training facilities. she also founded and operated her own personal training studio. Daniah continues to surround herself with "good energy" through networking with those who believe in the mind, body, and spiritual connection. Her main objectives are to give support to the True North Community and continue to make contact with others who can contribute to our team.
Other services/classes
Reiki
Meditation Classes
Groups for children, adolescents, and adults
Mindfulness Based Stress Reduction Program* (MBSR)
*Mindfulness Based Stress Reduction recognizes that the basic nature of the mind is to think constantly and automatically. This pull of the mind outside of awareness toward thinking about the paso or future can intensify the stress that often accompanies many of life's wanted and unwanted changes. The effects of persistent stress limit full enjoyment of life and have a negative impact on mental and physical health.
During the eight-week MBSR course, participants who willingly engage in their own care are guided in learning how to take better care of themselves. The learning, based on mindfulness meditation, develops inner resources for coping with stress, leading to discovering a deeper sense of ease, peace of mind, and an inner compass of guiding their way to greater health and enjoyment of life.
"Meditation means learning how to get out of this current [of thinking], sit by its bank, listen to it, lean from it and then use its energies to guide us rather than to tyrannize us." ~ John Kabat-Zinn, MBSR founder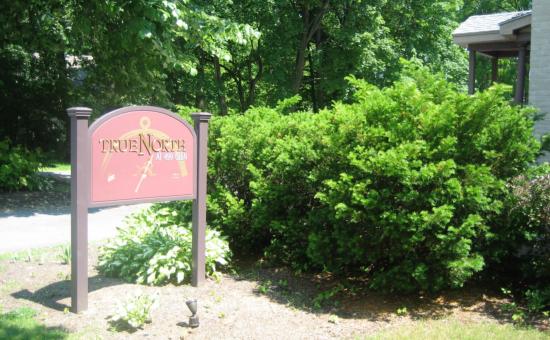 Click on the thumbnail images to see the larger version

Always get confirmation of the business location.
No events listed for this business.
Is this your business? If so, login to add your events!